Disney Genie & Disney Genie+ begins October 19
October 13, 2021
/
/
Comments Off

on Disney Genie & Disney Genie+ begins October 19

The new Disney Genie service can only be accessed in a guest's mydisneyexperience account through the app. There is a free part of Disney Genie and a pay service which is called Disney Genie+ Service.
The free part of Disney Genie gathers information from you for the type of experiences you would like to have during your Disney day. It then creates a personalized itinerary for where to go and when. It updates on its own throughout the day and recommends when to experience different attractions.
Disney Genie+ service is a pay service that gets you to the front of the lines at the Disney World & Disneyland attractions. You schedule a time using the app and use the new "Lightning Lane." This replaces FastPass+ that was used for years in the parks! Disney Genie+ costs $15 per ticket per day in Disney World & $20 per ticket per day in Disneyland.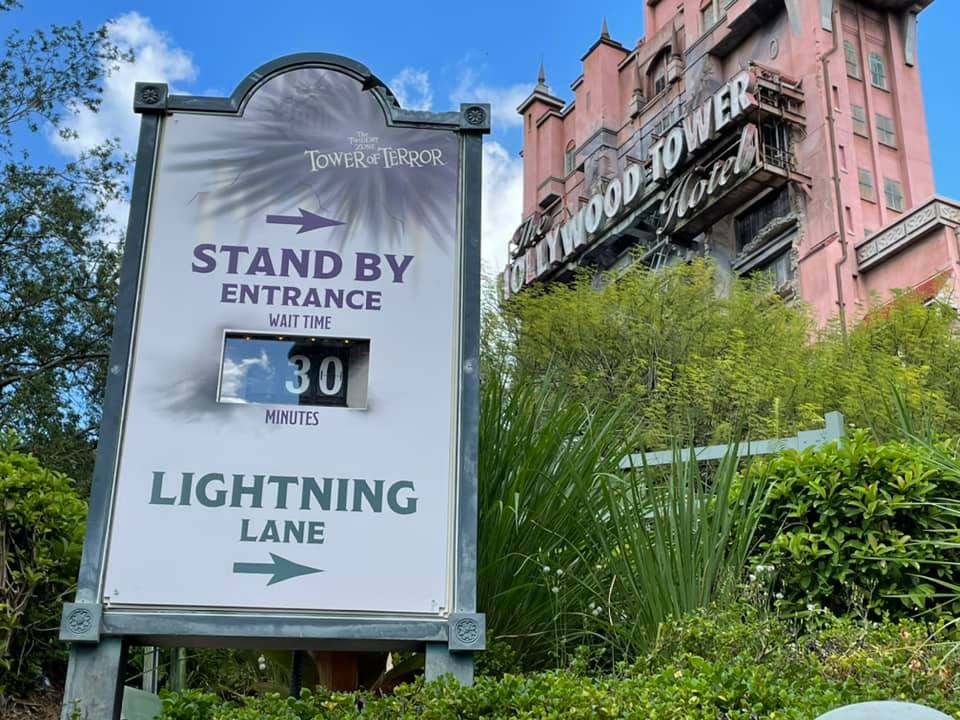 How can you add Disney Genie+ service to your ticket or Disney package? If your vacation begins after October 19, 2021 then it can be added to your Disney package very easily. You would simply tell your Mouse Vacation Planning agent to add it to your package and it costs $15 per ticket per day. It does have to be included for the length of your theme park ticket. If you only want it for 1 day or a few days, then you can pay for it through the app the morning you are attending a particular park. If you arrive to Disney World before October 19, 2021, you can add Disney Genie+ through the app each morning.
How does Disney Genie+ work? You select an attraction, where you would like to have a short wait, and select a time in the mydisneyexperience app to use the new "Lightning Lane." This can be done beginning at 7am the morning you are going to a certain theme park. Only Disney resort guests can make a selection at 7am. You must have a theme park pass reservation for that certain part as well. For example, you may choose Splash Mountain in the Magic Kingdom for 10am. You can only select one attraction at a time, throughout the day, depending on availability. When you have entered the "Lightning Lane," you can then schedule a time for another attraction. You can only use the Lightning Lane for an attraction once during a given day. For example, you can only choose Splash Mountain once during the day. The standby line is still available to use at anytime for all attractions, as often as you would like to use it.
Another important point is you can select a new attraction to use the Lightning Lane 120 minutes after you have made your 1st selection or after you have entered the Lightning Lane for a given attraction. For example, If you select Tower of Terror for 1pm and you made the selection at 7:10am, you can make a new selection beginning at 9:10am or after you have entered the Lightning Lane for the Tower of Terror.
Here are over 40 attractions that include Disney Genie+. Please note the most popular attractions like Seven Dwarfs Mine Train or Rise of the Resistance are not listed below. They are available for a separate purchase or the standby line can be used.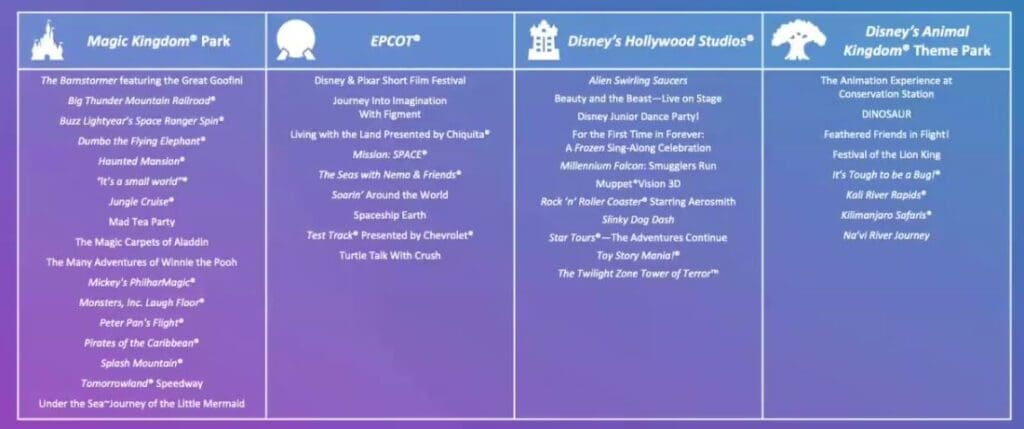 How do you use the Lightning Lane for the most popular Walt Disney World attractions like Rise of the Resistance? Within Disney Genie+, in your mydisneyexperience app, you select an in app feature to purchase these most popular attractions on the day you visit a certain park. This is in addition to the $15 per ticket per day or can be purchased even if you do not chose to purchase the Disney Genie+ Service.
You can select up to 2 total per day of these most popular Individual attractions for an additional cost. There are 2 of these attractions per theme park. In the Magic Kingdom they are: Seven Dwarfs Mine Train and Space Mountain. In Epcot they are: Remy's Ratatouille Adventure and Frozen Ever After. In Disney's Hollywood Studios they are: Rise of the Resistance and Mickey & Minnie's Runaway Railway. In Disney's Animal Kingdom they are: Flight of Passage and Expedition Everest. Please note, you can also use the standby line for free. You can park hop and choose 1 per park.
Please note that these most popular individual attractions will have a cost that will vary per day per attraction. Seven Dwarfs Mine Train could be $9 per person on a certain date. You can only choose 2 of these attractions per day and each attraction only once.
Here is one important tip you may consider: Since you will be using your smart phone throughout the day, you may want to bring an external battery to the parks so you do not lose the charge on your phone.
Visit our Walt Disney World quote page and book your Disney vacation with Mouse Vacation Planning! All of our planning services are free! Click here!