My name is Jeffrey Merola. I am the Founder and CEO of the small business Mouse Vacation Planning, LLC. I am a husband, father, author of 11 Walt Disney World guide books, Disney travel agent & Authorized Disney Vacation Planner, partners with Direct Travel, who is located in Syracuse, NY.
I first went to Walt Disney World in 1977, when I was only 5 years old. I finally returned in February 1997. Since that return trip in 1997, I have been in Walt Disney World for more than 400 days! So you can say I have found a second home.
I was a teacher for 21 years and during that time I wrote a guide book about Walt Disney World.  I then created my company Mouse Vacation Planning.  I wrote a new guide book each year trying to improve on the previous book.
Seven years ago, while I was still teaching, I became an Authorized Disney Vacation Planner.  I booked and planned trips for families as a 2nd occupation at night.  Three years went by and I decided that I was going to run my business full time and leave my teaching position.  That is what I have been doing ever since and it has become my passion!
I book and plan trips for Walt Disney World, Disneyland, Disney Cruise Line, Aulani in Hawaii, Adventures by Disney, Disney's Resort in Vero Beach, and Disney's Resort in Hilton Head for families in the United States and Canada! I can even now book Universal Orlando as well!
My Agents
Katie Kraft
Katie's love for Disney began with her first visit to Disney World when she was in the 2nd grade. She lives in Hammond, Louisiana with her husband and 2 boys. Her family's favorite vacation spot is Disney World! She has visited 30+ times!! There's nothing she loves more than seeing her boys' faces light up when seeing the castle or meeting Mickey and his pals!
After planning several trips of her own and helping family and friends plan their trips she decided to turned her love for Disney into a job she loves as a vacation planner with Mouse Vacation Planning!
Nicole Szulborski (bio coming)
Jenny Sgroi (bio coming)
DiAnne Roberts
DiAnne lives in western New York and she visits a Disney destination at least once a year. She has been married for 30 years, is a mother of two grown children, and has one grandchild. DiAnne retired early from a local school district so she can help others create magical memories that will last a lifetime. No matter how many times you go to Disney, there is always something new to discover.
DiAnne is very passionate about Disney, and has traveled to the parks many times over the years. Due to her passion and experience, she will help reduce the stress of planning your vacation. DiAnne's strengths include: reserving hotels, recommending itineraries, Genie +, scheduling dining reservations and much more. These will help relieve the pressure that comes with arranging the perfect vacation. You can actually enjoy your vacation and not worry about what comes next! Her friends and family often reach out to her for Disney and Universal travel advice, and she can't wait to share her expertise with you as well!
Nicole McLaughlin (bio coming)
Sashia Williams (bio coming)
Lauren Williamson (bio coming)
Katie Thompson
I am a mom of 2 amazing kiddos; an 8 year old girl & 1.5 year old boy. For as long as I can remember I couldn't wait to be a mom and now that I am, my life completely revolves around them! I have lived in Wisconsin my entire life aside from 2 years in Illinois for college. However, I do dream of moving a little south/southeast someday. Some of my favorite things are warm weather, Tigger, Italian food, football, Disney, playing cards with family, and going on adventures with my kids!
I took my first trip to Disney when I was 7 years old. Since then I have been on more than 16 Disney vacations. My favorite thing about Disney has been seeing it through the eyes of my children! It's a whole new experience seeing their excitement & reactions change year after year! Becoming a Disney travel agent is literally my dream job! Researching what's current and planning our trips brings a smile to my face every time. I look forward to helping you plan your very own Disney vacation with memories to last a lifetime!
Kristina Kirk
My name is Kristina, I am a wife, stepmom, physical therapist, attorney's assistant & liaison, and mom of fur babies. My love of Disney started at an early age when Disney movies brought me joy while I was recovering from multiple surgeries and during long hospital stays. I understand the importance of building unforgettable memories with the people you love. And of all the destinations in the world, Disney World is my home away from home. I cherish past magical memories made with my mom, dad, and sister and look forward to future Disney vacations with my own family and friends.
I love everything Disney, especially planning Disney vacations for family, friends, and coworkers. Some of my favorite Disney World memories were taking my 5-year-old stepdaughter to Disney for the first time, watching her dance with Judy Hops down main street, or cast members treating my husband and I like royalty on our honeymoon. I am a graduate of the College of Disney Knowledge and have a strong background in organizing, attention to detail, and planning. I am excited to help you make long lasting memories by planning your magical Disney vacation.
Erica Trella
Hi everyone! My name is Erica Trella, a life-long Disney Fan. Ever since I was young, I've fostered an enduring passion for everything Disney-related. Throughout the years, I have had the incredible opportunity to travel to Walt Disney World over a dozen times, exploring numerous hotels, indulging in delightful dining experiences, and savoring an array of scrumptious snacks. I've also had the joy of traveling to Disneyland.
Among my many DIsney-related interests, I proudly label myself a Minnie Mouse Headband Ear Connoisseur, boosting a collection of over 100 unique ears. Additionally, I've collected a diverse assortment of Disney pins, ranging from holiday-themed and limited-edition pieces to those representing different parks and beloved characters. These collectables help me bring the Disney Magic to my own home!
Walt Disney World will always hold a special place in my heart! My happy place!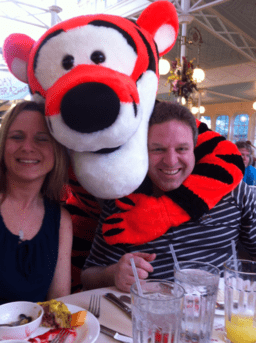 At Mouse Vacation Planning we are committed to 1st class service to make vacations magical for all clients. The client is always first in my eyes and I will go out of my way to treat you like family. I will do everything possible to make your vacation stress free. When it comes to any Disney destination, they are my favorite destinations on the planet. I want you to receive the same experience.
My family and I enjoy everything possible about Walt Disney World. We enjoy the sounds when you walk into the parks, the smells, sights, attractions, restaurants, characters, resorts, transportation, and even Disney Springs.
I have written 11 Walt Disney World guide books because I want to help families plan their Walt Disney World vacations and enjoy the vacation capital of the world by getting through the theme parks stress free. My current books are the only books you will need whether it is your 1st visit or your 20th.  I will take care of your Walt Disney World vacation planning!