Step #1:
Choosing a Walt Disney World Resort
Walt Disney World has many resorts to choose from depending on how much money you want to spend.
The resort categories are: value resorts (around $100 to $200 per night), moderate resorts (around $165 to $260 a night), and deluxe resorts (around $400 or more a night). 
All of the Disney resorts are excellent and the following are my recommendations.​
The resort is the smallest in Walt Disney World (WDW) and is themed after New Orleans. It has a great food court that is small, quiet, and manageable. I highly recommend trying the beignets. This New Orleans favorite is fried dough with a powered sugar topping. There is even boat transportation in the back of the resort to Disney Springs.
It is like walking into the Caribbean while staying in this beautiful resort. It contains a large food court with numerous food options. The main pool is spectacular with a high energy slide. The one downside is that the resort is large so there are five separate bus stops on property to take guests to the theme parks.
The resort buildings are identified by sport themes such as: football (touchdown), baseball, basketball, and tennis. It even has a football field that families can play on and larger than life sports icons and equipment. There are only two types of rooms. 
They are: standard rooms or preferred rooms, which are closer to the food court. The food court is enormous and has multiple food choices for breakfast, lunch, or dinner.
Families can journey back to the 50s, 60s, 70s, 80s, and 90s in this resort.  It has giant sized memorabilia from the different decades and the food court is family friendly with numerous choices for everyone. There is even a walkway in the back of the resort over to Disney's Art of Animation Resort.
The resort is the newest value resort in WDW. The grounds are like stepping into a Disney movie. The resort contains a large food court for breakfast, lunch, and dinner. The feature pool is the largest pool of any resort on property. There are two different types of room choices. The resort contains Little Mermaid standard rooms which sleep four and a child under three in a pack-n-play. The resort has family suites that sleep six as well.
They are: Cars family suites, Finding Nemo family suites, Lion King family suites, and family suites that are not based after any Disney movie. Please note that if Disney is offering a discount of any kind the discount will usually work for some of the family suites, but the Little Mermaid rooms are never discounted.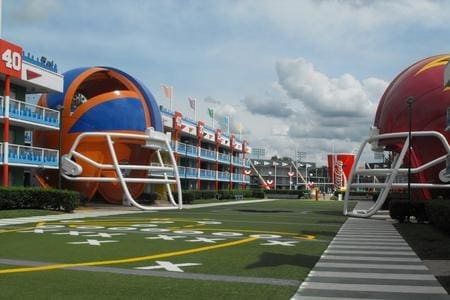 Step #2:
Choosing a Dining Plan
The most popular Disney Dining Plan called Disney Dining consists of 2 snacks, 1 counter service meal, and 1 table service meal per person per amount of nights of your stay in a Walt Disney World Resort. It also includes a resort refillable mug. A snack is almost anything that is about $6.00. A counter service meal is a meal, and non - alcoholic drink in a Disney walk up style eatery. An example would be ordering a cheeseburger, fries, and a coke.
There is also a less expensive dining plan called Quick Service dining. Everyone in the family receives 2 counter service meals per night of your stay, 2 snacks per night of your stay, and the resort refillable mug.
Another dining plan option is called Deluxe Disney dining. This plan includes any combination of 3 meals of counter service and table service per night of your stay.  For example, you could use 2 table service credits and 1 counter service credit on a given day.  The plan includes 2 snacks per night of your stay, and the resort refillable mug.
Step #3:
Choosing the length of your theme park tickets
Walt Disney World ticket pricing (Prices are a range because they are date based & include tax) (Adult = ages 10+, Child = ages 3-9)
2 day
$252.79 to $213.60
/ adult
Magic Your Way
Base Adult Ticket
2 day
$243.00 to $203.80
/ child
Magic Your Way
Base Child Ticket
3 day
$364.76 to $311.03
/ adult
Magic Your Way
Base Adult Ticket
3 day
$350.62 to $296.90
/ child
Magic Your Way
Base Child Ticket
4 day
$461.62 to $395.16
/ adult
Magic Your Way
Base Adult Ticket
4 day
$443.73 to $377.27
/ child
Magic Your Way
Base Child Ticket
5 day
$480.85 to $410.96
/ adult
Magic Your Way
Base Adult Ticket
5 day
$462.21 to $392.32
/ child
Magic Your Way
Base Child Ticket
6 day
$494.59 to $422.17
/ adult
Magic Your Way
Base Adult Ticket
6 day
$475.42 to $403.00
/ child
Magic Your Way
Base Child Ticket
7 day
$506.82 to $432.17
/ adult
Magic Your Way
Base Adult Ticket
7 day
$487.18 to $412.52
/ child
Magic Your Way
Base Child Ticket
8 day
$518.77 to $445.06
/ adult
Magic Your Way
Base Adult Ticket
8 day
$498.66 to $424.95
/ child
Magic Your Way
Base Child Ticket
9 day
$528.22 to $456.10
/ adult
Magic Your Way
Base Adult Ticket
9 day
$507.67 to $435.55
/ child
Magic Your Way
Base Child Ticket
10 day
$537.11 to $464.89
/ adult
Magic Your Way
Base Adult Ticket
10 day
$516.13 to $443.91
/ child
Magic Your Way
Base Child Ticket
**Adding on a Park Hopper and/or Plus Option the ticket price will increase between $70 and $106.50 depending on the amount of days**